(日本語は英語の後に続きます)
 
Apply to join SCCJ Mentoring Program 2023
Over 100 persons have taken part in our popular mentoring program. Now we have opened for new mentors and mentees to join the program starting in April 2023. This program is for SCCJ members only and it is free to join. 
 
CROSS-COMPANY EXCHANGE
Get new perspectives, get insights from professionals outside your own company.  
Mentors and mentees are matched from different companies. Our mentoring committee will match mentors and mentees based on profiles for best fit. 
PROFESSIONAL AND PERSONAL DEVELOPMENT 
Have talented ladies in your organization that needs coaching and support to succeed in the career.
Join as a mentor and you will gain energy, learnings and reflections that not only grows your mentee, but also yourself.  
 
BUILD YOUR NETWORK 
Expand your professional network with other mentors/mentors over time. Meet with other mentors and mentees from various levels and industries throughout the program. Get to know the Swedish-Japanese business community. 

PROFESSIONAL FACILITATION AND COACHING
Experienced members from SCCJ will provide information for you to start the mentorship in a structured way. We organize kick-off, midterm and graduation meetings throughout the program

REMARKS FROM PREVIOUS MENTORS & MENTEES
 
"I learned there are many ways to describe myself and found my personalities that I never noticed before. My mentor helped me to look at myself and find "hidden me."

Mentee, UD Trucks
"I recommend SCCJ mentoring program because it is matching with other company people. Mentee can talk about anything, forgetting about internal political things, and are able to hear opinions totally neutral, something I have never even thought of."

Mentee, Axis Communications
"I would highly recommend anyone with key interest in developing people and business to step in and become a SCCJ mentor/mentee."

Mentor, IKEA Japan
"For those of you who thinks that this is time consuming and not adding to your professional development, you are wrong. You will gain energy, learnings and reflections that not only grows your mentee, but also yourself. You will be a better leader with great listening and coaching skills."

Mentor, UD Trucks


The following companies have joined the mentorship program: 
 
Assa Abloy
Edith Grove
EF
Electrolux
Elekta
Epiroc
Ericsson
Gadelius
Getinge
GR Japan
IAR systems
IKEA
Sandvik
Tetra Pak
UD Trucks
Volvo Cars

OUTLINE 
Application deadline: March 30 (Thursday)
Mentoring kick-off: April 7 (Friday, TBA)
Duration: 8 months, until December 2023
Max number of mentors/mentors: 20 couples (40 Persons)
Language: Information material is in English, Japanese and English speakers can join
HOW IT WORKS
Nominate a minimum of two candidates from your company (mentor and a mentee).

Your company
Mentor (Man or Woman) 
Mentee (Woman)
+
Company X
Mentor (Man or Woman
Mentee (Woman)
=
Matched Mentorship

Click here to register your participation

We look forward to hearing from you and don't hesitate to contact us if you have any questions.  

Best Regards,  

SCCJ Mentoring Committee
Email: office@sccj.org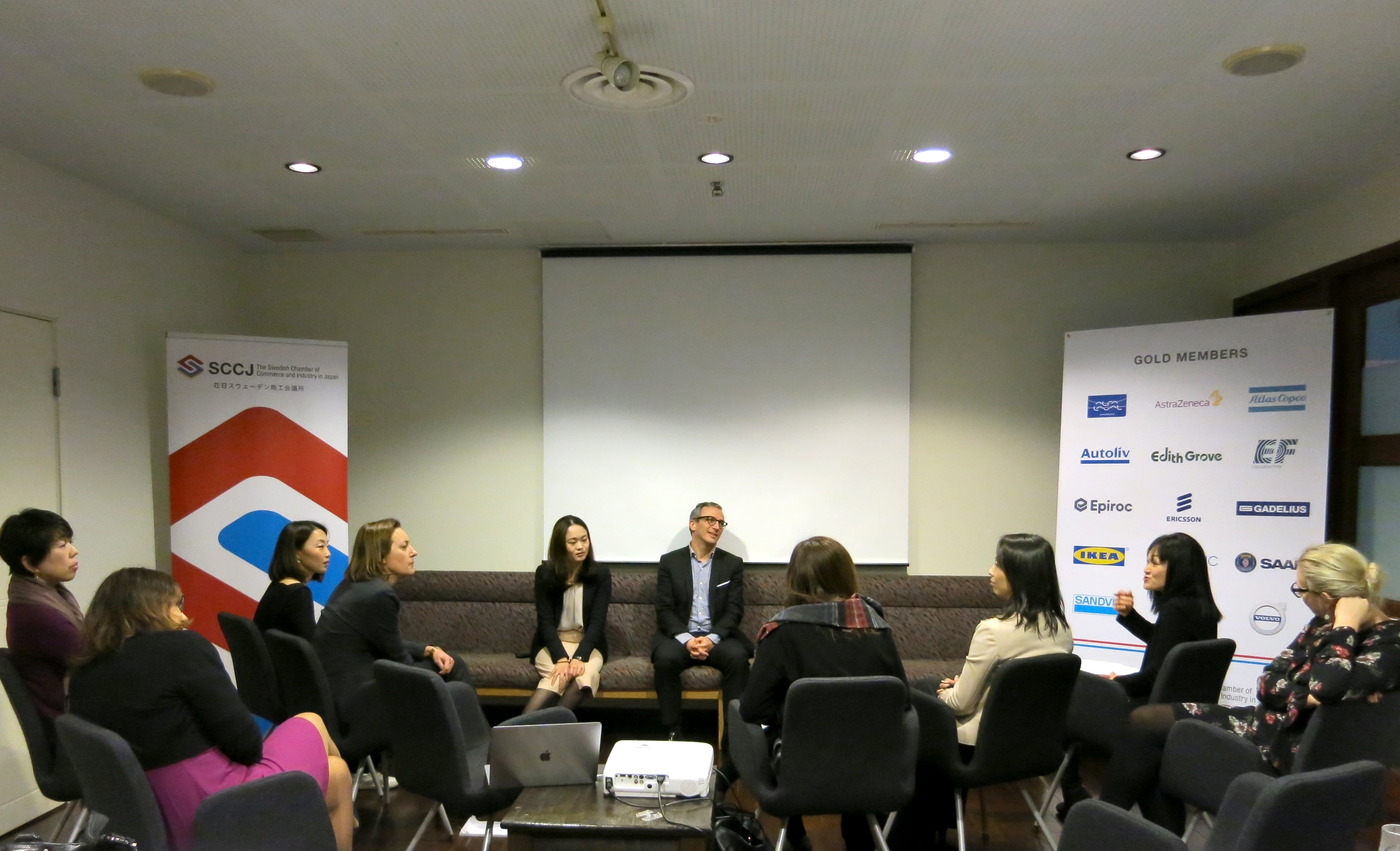 SCCJメンタリングプログラム2023年のご案内
SCCJによるメンタリングプログラムが大変ご好評をいただいているため、2023年度の本プログラムに参加する新しいメンター/メンティーの方々を募集します。こちらのプログラムはSCCJ会員限定で、参加費は無料です。
<企業の枠を超えた交流> 
ご自身が務める会社とは別の会社の人から、新たな見方・考え方を得られます。各ペアは、異なる会社に勤めているメンター及びメンティーによって構成されています。SCCJの担当チームが、皆様のプロフィールをもとに最適なペア作りを行います。
<自身の専門性及び能力を成長させる>
皆様の会社に勤める才覚あふれた女性の皆さんを対象に、メンターによるコーチングと今後のキャリア形成のアドバイスを行います。メンターとして本プログラムに参加する場合、ただアドバイスをするだけではありません。メンティーと対話を重ねることで彼らから新たな発見が得られ、ご自身の成長にもつながります。
<ネットワークづくり> メンターとの時間や、他のペアとの交流を通して、ご自身の専門性にかかわるネットワークを広げていきましょう。プロフラム期間中は様々な分野やレベルで活躍している他のメンターやメンティーに会う機会が沢山あります。スウェーデンと日本のビジネスコミュニティをより知ることができます。
<SCCJによるサポート> メンタリングプログラムの経験がない人でも大丈夫。SCCJの経験豊かなメンバーが、皆さんに不安なく取り組んでもらえるように様々なタイミングで情報を提供します。プログラム開始時のオリエンテーションや中間セッション、プログラム終了時の卒業式など、皆様が安心して参加できるようなサポート体制を整備しています。
過去のプログラムの参加者の声をご紹介します
"自分という存在の見方が何通りもあることに気づかされました。私のメンターは自分自身を見つめ、「隠された真の姿」を見つけることの大切さを教えてくれました。"
メンティー、UD Trucks
"このプログラムを皆さんに受けてもらいたい理由は、他の企業の人とペアが作られるからです。メンティーは自分の会社の事情を気にせずに何でも打ち明けられて、今まで思いつかなかった新しい意見や考え方を学ぶことができます。"
メンティー、Axis Communications
 
"自分のキャリアやスキルのことを一生懸命考え、さらなる成長を目指す皆さんに是非このプログラムを勧めます。是非このプログラムで充実した時間を過ごしてください。"
メンター、IKEA Japan
"もしこのプログラムが単なる時間の無駄で、自分の成長に何ら関係ないと思っている人がいたら、それは間違いです。メンターとして参加すると、メンティーとの対話を通じて彼らのエネルギーを感じ、メンター自身の成長にもつながります。このプログラムを通して他の人の意見をよりうまく聞けるようなリーダーシップスキルが身につきます。"
メンター、UD Trucks

メンタープログラムに参加した企業は以下の通りです。
Assa Abloy
Edith Grove
EF
Electrolux
Elekta
Epiroc
Ericsson
Gadelius
Getinge
GR Japan
IAR systems
IKEA
Sandvik
Tetra Pak
UD Trucks
Volvo Cars
プログラム概要
申込期限:3月30日(木)
期間:2023年4月~2023年12月までの8か月間
開始時オリエンテーション:4月7日(金)
ペア数:最大20ペア(40名)
言語:SCCJからの情報提供は英語で行われますが、メンタリング中は日本語・英語どちらでも参加できます。
ペアづくりの仕組み最低2名
最低2名(メンター1名以上、メンティー1名以上)最高4名(メンター2名、メンティー2名)の参加者を推薦していただきます。
こちらは女性のキャリア形成支援のプログラムのため、メンティーとして参加できるのは女性のみです。
ご自身の会社            
メンター (男性又は女性)
メンティー (女性)
+
別の会社 X
メンター (男性又は女性)
メンティー (女性)
=
ご自身の会社のメンター
会社Xのメンティー                                
ご自身の会社のメンティー
会社Xのメンター
>>申込書はこちらへ
多くの皆様のご応募をお待ちしております。
ご不明点・ご質問がありましたら、お気軽にお問い合わせください。
SCCJ メンタリングプログラム委員会